It's fair to say Taylor Swift dominated the Grammy's last week. '1989' was (rightly) awarded 'Album of the Year', making her the first woman ever to win it twice. Acknowledging her amazing achievement, as well as subtly dissing Kanye, she also gave the best acceptance speech of the night:
"As the first woman to win 'Album of the Year' at the Grammy's twice, I wanna say to all the young women out there: there are going to be people along the way who will try to undercut your success, or take credit for your accomplishments or your fame, but if you just focus on the work and you don't let those people sidetrack you, someday when you get where you're going, you'll look around and you'll know that it was you and the people who love you that put you there, and that will be the greatest feeling in the world."
Taylor's inspiring speech at the Grammy's shows how she's engaging us in some pretty great life lessons. We salute you T. Swizzle! So here's the top 6 things we've learnt from her:
1.Friendships Are The Most Important Relationships.
It's safe to say lots of people associate Taylor with her 'squad'. She's always promoted the value of having strong friendships, taking her Bad-Blood co-stars to last year's VMA's as her dates, and her recent Grammy date was Selena Gomez. Like Taylor, instead of getting caught up in the idea of having to be in a relationship, we should just enjoy having fun with our friends.
2.If Someone's Making Fun of You, Take Control of The Situation.
Taylor seems to have a bit of a rep as a 'serial dater', which is a very misogynistic attitude. Yet she will always just shake it off (sorry, I couldn't resist the pun…). Rather than let other people define her, she took on the 'crazy girl' image she given as inspiration for writing 'Blank Space'. This then went on to be number 1 across the world, win various awards, and be one of our most-loved music videos. Fair to say, she definitely made the best out of a bad situation.
3. It's Okay to Become a Different Person to Who You Once Were.
It doesn't mean you've lost who you are, it just means you're growing. Taylor has definitely grew as an artist with her bold move from country to full-out pop in'1989', and certainly paid off didn't it? There's also been a change in her lyrics: from Holy Ground's 'I don't want to dance if I'm not dancing with you' to Shake It Off's 'I'm dancing on my own, I make the moves up as I go' two years later. This really shows the importance of confidence in being who you are. Sorry, what's that? No I'm definitely not crying…
4.It's Important to Find Yourself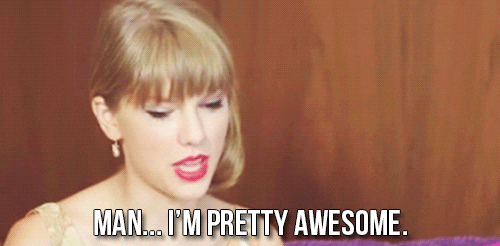 Now I don't just mean a gap year 'find yourself' kind of thing. I mean actually give yourself some time to realise who are you, or maybe who you want to be. This might be travelling, or taking a break from relationships, or whatever. What do you like about yourself? What do you dislike? It sounds super cheesy to talk about this, but Taylor put it best in her 'Out of the Woods'  music video, where she said 'She lost him. But she found herself. And somehow that was everything.'
4.Make Fun of Yourself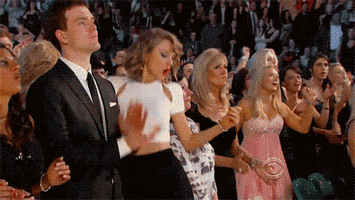 And don't care what other people think. If you've not seen Taylor dancing at a music awards show before, you're missing out. She really doesn't care what anyone says of her, and just has fun. Because life's short, eh? To top it all off, she will always be the first one to make fun of herself, as shown in many of her award speeches .
5. Just be Nice
Being nice is such an under-rated character trait, but Taylor Swift is just lovely. From Swiftmas, where she gave lots of her fans Christmas gifts, to surprising her high school best friend with her favourite band on her birthday, it's fair to say she's always doing pretty lovely things. Sadly I'm not Taylor Swift, and I might not be able to invite my fans round to my house to listen to my new album a) because you really don't want to hear my signing voice, and b) I'm pretty sure no one's heard of me. However that doesn't mean I can't do nice things on a much smaller scale – yes mum, I'll help bring in the shopping, one sec…
6.Celebrate Other Women's Success
Being a feminist, as Taylor so expertly shows, means supporting other women and not tearing them down whenever they do something amazing. 'Song of the Summer' at the VMA's last year was voted for on social media, yet instead of tweeting for her own 'Bad Blood' to win, Taylor tweeted #GoodForYouVMA, aka Selena Gomez's song. Safe to say, she's pretty good at championing other women's achievements.
Well, it seems 'What Would Taylor Do' is now my new mantra…
Article by Jennifer Richards.