I can't be the only one late to the party with this one, but I'm literally obsessed with Absolutely Fabulous! A day with hours to spare, turned into a giggle zone when I stumbled across this stylish duo on Netflix…..
Messy beehives,outrageous outfits plus a parody on PR and magazines in the fashion world  equals the perfect watch-a-series-in-a-day programme! Whilst Absolutely Fabulous is a comedy from the 1990s and is a little far fetched at times, there are lessons to be learnt from this stylish duo!
1.Cool Is What You Make Of It!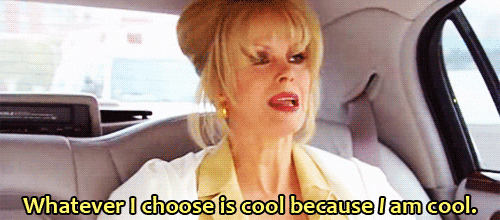 If you believe that you're fabulous, stylish and successful, this will take you far! Don't pay attention to what those 'basic' people think, just do you! If you want to dye your hair or achieve a great career, do it! Patsy and Eddy don't care what other people think, they think they are fabulous and it shines through.
2. That It's Okay to Fail at Excercising.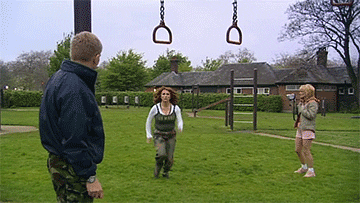 Don't worry if you can't do the whole 'excericise thing'. You are just more of a work-out-at-home kinda girl  instead of than a boot camp hardcore sessioner! Although if you do workout, leave the combats at home in favour of lightweight gym gear….
3. Experiment With Your Style
However, don't go overboard! Enhance the features you have , whether it's a dash of red lipstick or a super mini skirt to show off those killer legs! Toning a style down and focusing on one area can have more impact than going all out with your look. Remember less is more!
4.Friendship is Everything
Without a girl to gossip to and go shopping to Harvey Nichols (we wish!), life would be so dull.
5. We Can Never Look at Going Downstairs in the Same Way Again!
6. Dance Like No One is Watching!
Dance like no one is watching, even if your whole family isn't dancing with you! In a way, we'd love to be a part of Eddy and Patsy's squad; although I don't quite think we're cool enough……
7. You'll Never Understand Life
You'll never figure out life, no matter how old you are! Live in the moment and things will fall into place eventually.
Article by Katherine Taylor