Pretty holiday clothes. Check. Beautiful bikinis. Check. Sun cream and bronzer. Check.
Now, what's missing?
I constantly focus on the delicate holiday clothes and bejewelled sandals, piling them in my suitcase. Adding more and more outfits until my case can't take much more! However when I get to the airport, panic soon arises.
I've forgotten to pack a book!!
Now, forgetting a book isn't exactly the worst thing in the world but it's a ritual I alway like to do. Immersing myself into a fantasy scenario whilst I relax on a sun lounger. Although top tip – dry your hands after applying your sun cream, before reading your book. Trust me, it's ink galore if you don't!
A trip to WHSmith's at duty-free can sometimes solve the disastrous situation but it's nothing compared to what you could have picked. We take you through our 5 faves that'll take you from long haul flight to sunbathing paradise!
1. #Girl Boss by Sophia Amoruso
The ultimate feel good, inspirational book for those girls who want to achieve bigger and better! Sophia Amoruso is the founder and CEO of Nasty Gal, a huge fashion business, and shares her journey from eBay seller to a high flying business lady. Delve through the pages to discover that anything is possible with hard work and ambition; perhaps inspiring a new venture for when you return home? Check it out here.
2. Brooklyn by Colm

Tóibín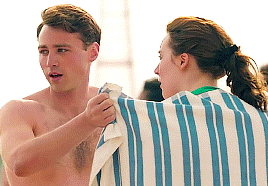 Fancy jetting off to start a life in another country? This is a brilliant pick for this! You may have heard/seen the movie based on the book 'Brooklyn' starring Saoirse Ronan, daydreaming of what it's like to move to New York. With more detail of the stunning outfits and the romantic crossfires between Ireland and New York; this is definitely the book I'll be storing in my hand luggage! Check it out here.
3.Girl Online by Zoe Sugg
We've all heard of the number 1 bestseller by one of our favourite vloggers Zoe Sugg; an adventure combining romance and the online world. Targeted towards a younger audience, this is a great lighthearted easy read for when you want to clear your mind and not think. Forget about your instagrammable food, scenery or the flatlay of your make up of the day; just read and relax! Check it out here.
4.Big Magic: Creative Living Beyond Fear by Elizabeth Gilbert
For the girl who likes to think and reflect on their life, 'Big Magic' is perfect for embracing your creativity and tackling any desires or fears. Whether you've got a challenging assignment at university, the longing to create engaging content at work or embark on a personal project you've always wanted to do. Come home from your exotic holiday, refreshed and ready to take on anything on your way! Check it out here.
5.The Girl of Ink & Stars by Kiran Millwood-Hargrave
We love a gripping adventure story whilst we gaze over the picturesque views in front of us! Venture through the tale of wonder and courage; book in one hand, refreshing mojito in the other! Although don't get too sucked in, missing your holiday adventure in favor of the one in your book! Check it out here.
What are your must have books to take on holiday? 
Article by Katherine Taylor.